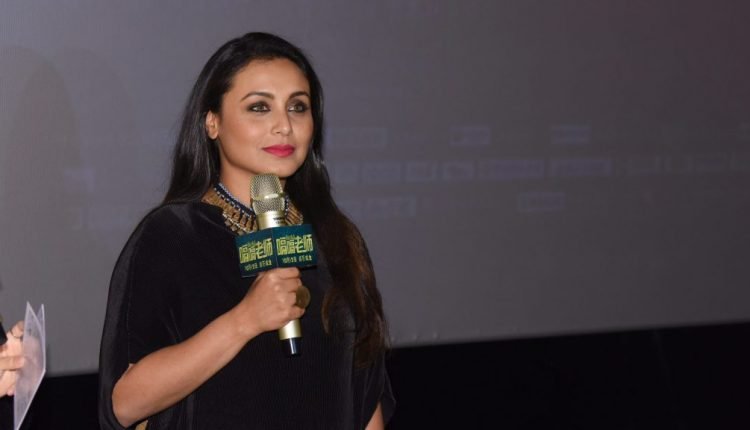 Rani Mukerji To Star In 'Mrs. Chatterjee Vs Norway' – .
EXCLUSIVE: Bollywood star Rani Mukerji will direct the feature drama Mrs. Chatterjee versus Norway.
The details of the plot are kept under wraps in the film, but we understand that the project is based on the controversial 2011 true story of an Indian couple whose children were stolen from them by Norwegian social services.
Indian studio Zee Studios and local producer Emmay Entertainment are behind the Hindi film, which is currently in preproduction. Ashima Chibber has written and directed the script. Nikkhil Advani, Madhu Bhojwani and Monisha Advani produce for Emmay.
Popular Bollywood star Mukerji, who has won seven Filmfare Awards, is known for films like Yuva, Black, Mardaani, Mardaani 2 and Hichki.
Related story
Janhvi Kapoor is headlining 'Roohi', Bollywood's first major release since the return of Indian cinemas to full capacity: Q&A
Mukerji said, "There is no better way to celebrate my birthday today than to announce this really important movie. In my 25th year in cinema, I may have signed one of the most special and significant films of my career. I started my career with Raja Ki Aayegi Baraat, a film that focuses on women, and coincidentally, at the age of 25, I am announcing a film that will also be about a woman's determination to fight against all odds and to conquer a country. Mrs. Chatterjee vs Norway is a story of true human resilience and a film dedicated to all of the mothers out there. It really is one of the most amazing scripts I've read in a long time, and I immediately went for this particular film. "
She continued, "It's a pleasure to work creatively with Nikkhil Advani, who I've known since Kuch Kuch Hota Hai! It's amazing to see him and his company, Emmay Entertainment, grow. Glad Zee Studios worked with them on this powerful script. Partnering with Ashima Chibber is something I'm looking forward to, whose vision for the film and intent with this project has really overwhelmed me. This is a powerful story from a woman that needs to be told. I hope that we will work hard as a team and conjure up for Ms. Chatterjee against Norway together. "
Monisha Advani, Partner at Emmay Entertainment, commented, "We are delighted to be producing this extremely powerful drama. Having the inimitable Rani Mukerji at the helm of the cast is nothing short of a coup that made us raise the bar. Ashima Chibber wrote an intense, sensitive film and we are proud to support her directing it. We look forward to this first collaboration with Zee Studios and promise to bring another inspiring story to life. "
Shariq Patel, CEO of Zee Studios added, "At Zee Studios, we have always believed in telling game-changing stories and Mrs. Chatterjee v Norway is one such story. We are excited to work with Rani for the first time. She has several memorable roles to her credit, whether it's a ferocious cop or a teacher fighting all odds. She is such an evolved and powerful actress. It will be a pleasure to see Ashima envision Mrs. Chatterjee's character. We can't wait to introduce this story to the audience. "