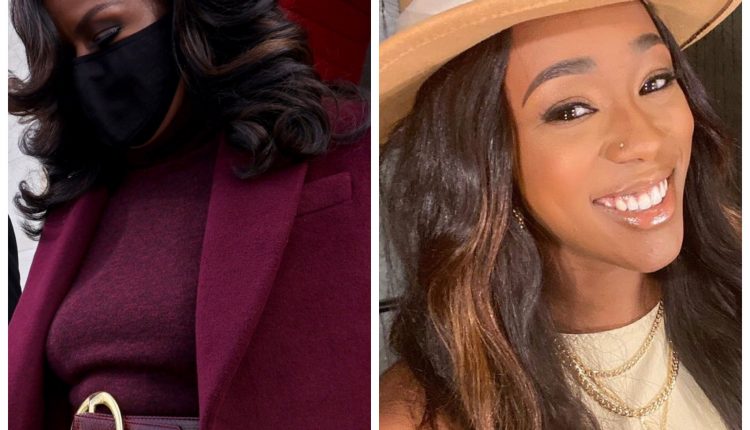 TSR Unique: Michelle Obama's Hairstylist Yene Damtew Let's Us Know All About Her Inauguration Day Hair That Stole The Present!
Roommate, social media is still choking Michelle Obama's inauguration day look – and while her fashion was definitely top notch, it was her bouncy, flowing hair that made her jaw drop. We met Michelle's personal hairdresser Yene Damtew and got a glimpse of how she killed and laid Michelle's hair for the big day!
When we asked Yene Damtew if there was a plan in mind or if she freestyled Michelle Obama's hair on inauguration day, she stated:
"I hadn't thought about it days before. But when I saw the clothes and coat that Meredith Koop had picked out, I knew the hairstyle had to complete the entire look. I also look at the forecast and assume how long it will be out in the elements. I wanted to create a sleek look that would turn heads, but I also wanted a style that would last for hours without me by her side for a quick touch-up. The larger curls are easier to work with and hold up very well. She didn't give me a specific direction. We have been working together for over a decade, which is a blessing. At this point we know each other. She trusts me to pick a style that works, and I trust she will allow me to be creative. I knew Ms. Obama would wear a monochrome look, so I knew the hair had to stand out by itself. "
She went on and also gave us the tea about how long it took for her hair to style Michelle's hair:
"Not too long, I've been doing this for a while. But Carl and I put our hair and makeup together at the same time. So we had to work with and around each other and at the same time watch the clock so that we weren't late. The inauguration is a well-timed event, so there was no delay for this day. "
Now #Roommates, you know we have you, so we also asked Yene what products she used on our Forever First Lady's hair – so we can all shop fast. She told us, "I have a number of products and tools that I use depending on the look I create. My kit always has a good feather comb, a rattail comb, a solid press comb, a gold Marcel iron and a flexible hairspray like Oribe superfine. For this look, I used Amika Headstrong hairspray for the finish and the Mizani 25miracle had given off moisture beforehand. "
Yene also gave a little backstory on how she got the great opportunity to work with Michelle Obama as her personal hairdresser over 10 years ago. "I've had a relationship with Obama since 2009. I worked for their then stylist who is my mentor and he took me to the White House where I was helping the entire family with hair needs. Working in the White House for eight years was one of the highest honors of my life. My relationship with Ms. Obama has remained strong in her post-First Lady life. I was blessed to stay on their style team along with my friends Carl Ray (makeup) and Meredith Koop (clothing). I did hair for her bestselling book Becoming and accompanied her on her two-year book tour around the world. I see her not only as a client, but also as a friend and mentor, "she said.
We love to see that double dose of #BlackGirlMagic!
Would you like tea right in your inbox? Visit us at 917-722-8057 or click here to join!