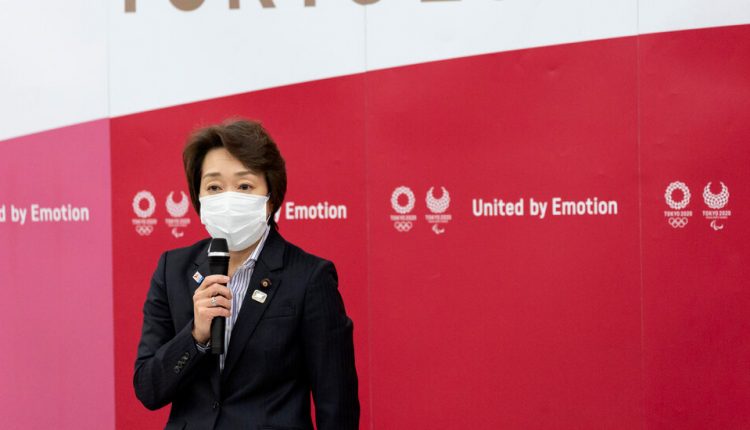 Your Friday Briefing – The New York Occasions
A new leader of the Tokyo Olympics is named after a sexist remark
Seiko Hashimoto, one of the two Japanese cabinet ministers, is the new head of the Tokyo Olympic Organizing Committee.
Her appointment was in response to heavy criticism following the resignation of Yoshiro Mori, who resigned after saying that women talked too much in meetings. The man the committee originally wanted to turn to next – Mr. Mori's handpicked pick – is an 84-year-old former leader of Japanese football.
Ms. Hashimoto, 56, an Olympic medalist in speed skating, said her first priority would be coronavirus protection at the summer games so that "both Japanese and overseas people would believe the Tokyo Games are safe and secure" .
Larger image: The shift reflected the strong voice Japanese, especially women, found on social media, and many saw it as an achievement in mobilizing young activists. Others dismissed it as a cosmetic choice that probably wouldn't empower women.
Quote: "In the past, he would only have been criticized and then the problem would end," said Kazuyo Katsuma, a businesswoman and author of bestselling books on work-life balance.
Facebook's news blackout in Australia
The Australians woke up to a shock on Facebook on Thursday: the news was gone. Instead of paying publishers for stories, a requirement of the new legislation, the tech giant deleted the information page.
However, Australians soon discovered that these weren't just news sites. Pages for government health departments, the meteorology bureau, politicians, nonprofits, and more have been deleted. Even more frightening was what was left: pages devoted to aliens and UFOs; one for a community group called "Say No To Vaccines"; and many conspiracy theories.
Facebook initially blamed the proposed law, which is expected to be passed soon, and later promised to restore key pages of the public service.
Split views: Most Australians were outraged, but for a variety of reasons. Some accuse Facebook that the tech giant has too much market power; Some find fault with the law, which they consider to be too broad. and others say it might be for the best, helping small news publishers who are being swallowed up by big technology.
Analysis: "Australia is an ignorant test lab for what happens to Facebook, news organizations and the public when Facebook is a news wasteland," said Shira Ovide, author of our On Tech newsletter.
Hong Kong approves Chinese vaccine
The Hong Kong government announced Thursday that it had approved the Covid-19 vaccine from Chinese company Sinovac, which has been subject to a global review of its shipping delays and inconsistent data.
Hong Kong health officials said the first million doses of the vaccine called CoronaVac would arrive on Friday and that vaccinations would start next week with key workers and people over 60.
Hong Kong is one of the few governments in Asia to have approved CoronaVac for use. Other countries have stated that they want full test data from the manufacturer. A recent poll found that Hong Kong residents would prefer the Pfizer vaccine, which is expected to be available there in late February.
Context: Brazilian officials said in January that CoronaVac's rate of effectiveness was just over 50 percent, lower than other vaccines. Sinovac gave data from government-appointed experts in Hong Kong showing an effectiveness rate of 62.3 percent. The data has not been made public.
Here are the latest updates and maps of the pandemic.
In other developments:
If you have 5 minutes it is worth it
Maintain a whistled language
On La Gomera, one of the Canary Islands, a cultivated language called Silbo Gomero, dating back centuries, is still used by school children such as Arantxa Cifuentes Gutiérrez (15) and a community that acts as the guardian of the language.
Antonio Márquez Navarro, 71, takes pride in what he calls "the poetry of my island". And he adds: "Like poetry, pipes don't have to be useful to be special and beautiful."
The following also happens
Belarusian dissent: Two young journalists were sentenced to two years in prison for streaming video reports of a demonstration against the rule of President Aleksandr Lukashenko, the latest episode in a campaign to silence all forms of opposition.
Australian Open: Serena Williams left the tournament in tears after losing to Naomi Osaka. Ashleigh Barty, the # 1 seed, was also outside. Novak Djokovic beat outsider Aslan Karatsev. Next up are Daniil Medvedev and the fifth Stefanos Tsitsipas.
New Zealand: Prime Minister Jacinda Ardern said Thursday that all schools would provide students with free menstrual products for the next three years to help alleviate "period poverty" – lack of access to pads or tampons.
Mars landing: NASA's Perseverance rover will attempt to land Mars in one piece, the third spacecraft to arrive on the planet this month after visitors from the United Arab Emirates and China.
US immigration: President Biden's allies on Thursday introduced an immigration overhaul in Congress that aims to provide a route to citizenship for 11 million undocumented Americans.
Snapshot: Boiling snow on top to make drinking safe. After a winter storm caused power outages at water treatment plants in Texas, officials declared the water unsafe and advised residents to boil their water for safety reasons.
What we hear: in the Happiness Lab's podcast, hosted by Yale professor Laurie Santos, takes us through the science of a counterintuitive truth: Having a tough inner critic doesn't really help you achieve goals.
Now a break from the news
Cook: This popular, easy-to-assemble Pasta alla Vodka brings dinner to the table in no time.
See: "I Care a Lot", an unexpectedly gripping thriller that vacillates between comedy and horror, is cleverly written and wonderfully cast.
Do: If you want a healthy heart, the more you exercise, the better, according to an encouraging new study.
Try something new. At home, you have ideas for what to read, cook, see, and do while being safe at home.
And now for the background story about …
Restaurant coverage in a pandemic
Pete Wells, our restaurant reviewer, wrote about his hunt for a great meal in New York City, where the coronavirus pandemic has forced restaurants to adjust to closing and reopening times for both indoor and outdoor dining.
For months after all of the restaurant's dining rooms in town closed in March last year, I haven't written anything resembling a review. The whole business and all of the people in it suffered, and I spent my time as a reporter trying to figure out how some of them got along.
Before the pandemic, I usually called chefs after writing a review of their restaurant but before it was released to check the facts. The cooks usually sounded like I was calling with the results of a lab test.
The conversations I had last spring were different. They talked about going bankrupt, they talked about crying and not wanting to get up. What else did they have to lose when they talked to me?
By June the crisis had turned into a sort of desperate stability. The day al fresco dining began, I rode my bike to Manhattan to have lunch at the first open restaurant I could find. I was just as excited to eat someone else's kitchen as I was doing something that resembled my old job.
It was a few more weeks before I wrote any reviews. At first I worried that my opinion would be unfair if restaurants tried so hard to adapt to the new reality. Finally, I understood that this was exactly what the reviews were worth writing. Good food in a pandemic was great; good food seemed like a miracle and I found good food everywhere.
That's it for this briefing. Until next time.
– Melina
Thank you
Carole Landry helped write this briefing. Theodore Kim and Jahaan Singh took the break from the news. You can reach the team at [email protected]
PS
• We hear "The Daily". Our latest episode is about Paul Rusesabagina, the hero of the "Hotel Rwanda", who is now accused of terrorism.
• Here is our mini crossword and clue: Pakistani language (four letters). You can find all of our puzzles here.
• Kathleen Kingsbury, our opinion editor, spoke to Nieman Lab about the transformation of opinion journalism.