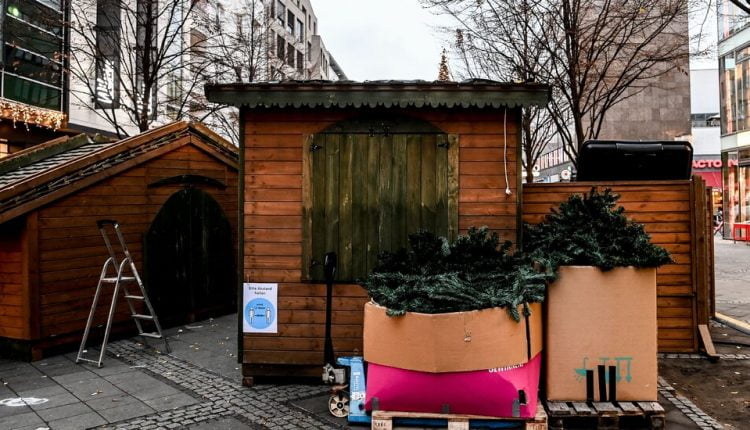 Your Thursday Briefing – The New York Occasions
Bans and vaccines in Europe
Even if vaccines show promise, the coronavirus continues to rise across Europe.
Sweden imposed new restrictions as a second wave of the virus sparked a surge in cases. While the country had previously avoided lockdowns and fueled criticism of the government, Sweden has recalibrated its approach, closing some schools and restricting public gatherings.
Germany on Wednesday launched a strict lockdown that will last until January 10 after weeks of milder restrictions failed to slow the spread of the virus. Pubs and restaurants in London are also closed on Wednesday.
In encouraging news, more than 137,000 people in the UK received the Pfizer vaccine in the first week of the country's mass vaccination program. The emergency approval for the vaccine in the 27 countries of the European Union could be given as early as Monday when the European Medicines Agency meets.
How China is getting Australia to rethink coal
China is forcing Australia to accept that the coal era is coming to an end.
After months of restrictions, China has now officially blocked coal imports from Australia and received a slap in the face, just as many countries are rethinking their reliance on fossil fuels, which are accelerating the destruction of climate change.
Australia is the world's largest coal exporter and China is the second largest market after Japan. Australian coal company stocks tumbled this week after Chinese news hit the markets.
Quote: "A transition has been forced upon us," said Richie Merzian, director of the climate and energy program at the Australia Institute. "It's hard to see how things will really play out from here."
Connected: Climate change and its enormous human migrations will transform agriculture and reshape the world order – and no country can win more than Russia.
Alibaba and China's Treatment of the Uyghurs
One of the world's most valuable internet companies, Alibaba, could get caught up in the storm of international condemnation for China's treatment of Muslim minorities.
Alibaba's cloud computing business website demonstrated how customers can use their software to recognize the faces of Uyghurs and other minority groups in pictures and videos. This is evident from pages discovered by the surveillance industry publication IPVM and shared with The Times.
It is not clear whether or how the company's customers used the detection tool, but the potential for problematic use is high. After The Times asked Alibaba about the tool this week, the company updated its website to remove references to Uyghurs and other groups.
Context: The Washington Post reported last week that Huawei was testing software that could alert police if their surveillance cameras recognized Uighur faces. Another Chinese provider, Kingsoft Cloud, posted on its website a now-deleted description of the technology that enables facial images to be used to predict "race" and assess whether a person is "Uyghur" or "non-Uighur".
If you have 12 minutes, it's worth it
The trains behind India's virus surge
Dozens of million migrant workers were stranded after Prime Minister Narendra Modi imposed a national coronavirus lockdown in March. As the weeks went on, workers became so desperate that the government provided emergency trains to take them back to their home villages. Upstairs, Mumbai workers waited to get on the trains in May.
These trains played an important role in spreading the virus to almost all parts of the country. India now has the second largest drop load in the world after that of the US. Our reporters examined how these trains became contagion zones.
The following also happens
China moon mission: China's Chang'e-5 spaceship is said to bring a capsule made of stones and earth from the moon back to earth. If the mission is successful, it will be the first new cache of lunar samples since 1976.
Japanese animation studio fire: Prosecutors on Wednesday charged a man with arson and murder in connection with a fire last year that killed 36 people in an animation studio in Kyoto. The man, Shinji Aoba, had a history of mental illness and was badly burned in the fire.
Hong Kong activists: China charged 10 activists with illegally crossing the border after they were captured at sea while trying to flee to Taiwan in August. The case has become a focus of the pro-democracy opposition in Hong Kong.
Pakistani Rape Law: The government passed a measure ordering the opening of rape crisis centers and allowing chemical castration for men convicted of rape. Special courts will also be created to try rape cases within four months.
Snapshot: Above actors from Pandemonium, a new BBC sitcom about life during the pandemic. Following a family stuck in a British seaside town after the virus ended their planned Disneyland vacation, the show will test whether audiences are ready to laugh at Covid-19.
What we read: This Atlantic article about the four men whose legacies shaped the South China Sea. It is a gripping tale of the "ghosts" that haunt the disputed waters and how their story can affect tensions between the US and China today.
Now a break from the news
Cook: This caramelized shallot noodle is all about the shallots, which are cooked in an olive oil bath to make a jam paste.
Clock: Comedians like Leslie Jones, Chelsea Handler and Hannibal Buress have adjusted to the new abnormality this year. Here is our list of the best comedy of 2020.
Do: How to prepare your own frankincense with sandalwood powder, herbs and essential oils.
We're here to help you capitalize on the holiday cheer. At Home offers a comprehensive collection of ideas on what to read, cook, see, and do to pass the time while staying home safe at the same time.
And now for the background story about …
How do I become a newsletter professional?
If you're reading this, you probably like newsletters. Well, we have good news: there is still time to make your own to recap 2020. As December draws to a close, this is an opportunity to take stock and let your friends and family know how you are doing. Our reporter offers tips for putting together a summary of your year.
Step 1: tell your story
If stories from vacation or group outings are in short supply this year, think about the local adventures you've experienced – like adopting a cat, exploring the city on foot, learning to cook, or picking up the mandolin. If the whole family has something to share, ask each member of the household to contribute a paragraph or two. For physical writing, write your thoughts in your note taking app or a word processor like Apple's Pages or Google Docs. Both are free, likely already on your device, and can run on smartphones, tablets, and computer web browsers.
Step 2: add pictures
Even if there is a shortage of travel photos and the school pictures for 2020 are zoom screenshots, search your photo library for other pictures to visually document your year. For a year-end family portrait that everyone is involved in, set the camera timer so the photographer has a few seconds to jump into the frame. Snapshots of your walks around the city, outdoor dining with friends, close-ups of garden flowers, and photos of animals can capture life as you lived it in 2020, even in a lockdown or quarantine.
Step 3: design your newsletter
Now is the time to combine your words and pictures into one eye-catching document. If you've never laid out a layout before, most word processors come with a gallery of templates that you can use as a starting point. Apple's Pages and Google Docs contain templates. Choose a template from the gallery that you like and replace the sample formatted text by highlighting it and writing (or pasting) your own words. Tap or click sample images to replace them with photos from your own photo library, or find a menu option to insert new images.
That's it for this briefing. Until next time.
– Dani
Many Thanks
To Theodore Kim and Jahaan Singh for the break from the news. You can reach the team at [email protected]
PS
• We hear "The Daily". Our latest episode is about a sophisticated hacking operation aimed at American agencies.
• Here is our mini crossword puzzle and a clue: Rainy Month (five letters). You can find all of our puzzles here.
• Claire Gutierrez, a story editor who worked for The Times Magazine, becomes our Great Reads editor.