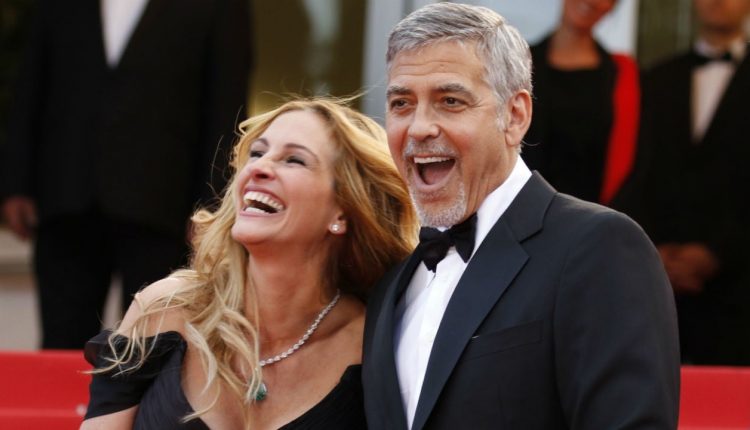 George Clooney And Julia Roberts Movie New Film In Bali Are Their Spouses Nervous Over Their Insane Chemistry?
George Clooney and Julia Roberts are in Bali and are shooting their new film Ticket to Paradise. The fans are excited about their upcoming rom-com. A new report in the March 22, 2021 issue of the National Enquirer suggests that George and Julia's spouses are not happy about the duo's reunification. George Clooney and Julia Roberts I've always had amazing chemistry, but according to the source of the publication, Amal Clooney and Danny Moder are consumed by jealousy while their other halves live there on Bali.
The source stated the following about Julia Roberts and George Clooney in the publication.
RELATED: Amal Clooney Vows Never To Bring Her Husband George Clooney Through This Again "For The Sake Of Their Marriage"!
They had a flirty dynamic from the jump, and it drives both of their spouses crazy with jealousy. Amal was always suspicious of George's relationship with Julia – especially since she often came to George for advice when she had problems with Danny. The last thing Danny and Amal want is for George and Julia to rediscover their friendship while spending months together on a distant exotic movie set!
Tabloids have speculated for years about the marriages of George Clooney and Julia Roberts. Many publications state that both couples are about to divorce. Even so, George and Julia make a strong front in their marriages and both are known to keep their personal lives private.
RELATED: Julia Roberts Claps Back On Hater Who Is Criticizing Her "Ugly Nail Polish" In The Best Way!
Not everyone believes there are problems in paradise, but that hasn't stopped many from wondering if Amal and Danny were wrong, worrying about the couple getting closer again.
The source continued to cover Danny's and Juliet's marriage, saying that they survived a hurdle in 2019 but still had great tension between them. The source said Amal is fed up with George taking risks on behalf of work. The insider shed light on the situation and said this.
George and Julia know they have chemistry and they both want it to be a hit. They also enjoy each other's company and are on the last nerve with their spouses!
What do you think of the report? Do you think Danny Moder and Amal Clooney are jealous of George Clooney and Julia Roberts' crazy chemistry? Are you looking forward to Ticket to Paradise?
Charisse Van Horn is a freelance writer based out of Tampa Bay. She enjoys writing about celebrities, entertainment, crime, and fashion. The author of this article will take legal action against those who reproduce or rotate this article outside of Celebrity Insider.