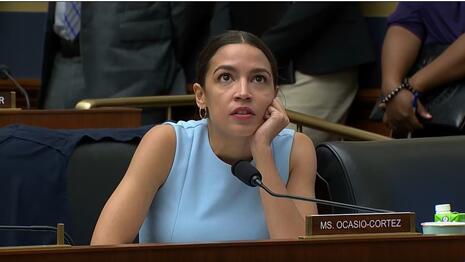 NEW NewsBusters Podcast: AOC Is At all times A-OK on the Information with Tim Graham & Kyle Drennen
On the latest Chatter record on the NewsBusters podcast, Editor-in-Chief Tim Graham explores the depths of the "Ocasio Cortex" and how the New York Socialist Congresswoman told a compelling story of how terrified she was during the January 6th Capitol uprising was.
The networks vigorously dramatized an "Instagram Live" account she gave and no one questioned her facts, including her "disclosure" that she was a victim of sexual assault. She then likened this alleged attack to Republican "abusers" who wanted to go on like the insurrection wasn't a big deal.
The "independent fact-checkers" as a pack surrounded AOC in a defensive crouch and denounced "malicious smears" from conservative websites such as RedState and The Daily Wire. Only CNN's Daniel Dale has managed to evaluate some of Ocasio-Cortez's lively allegations about Ted Cruz attempting to have her murdered. There was "no evidence," said Dale. Why couldn't the others do such a simple task?
Senior Analyst Kyle Drennen joins the podcast to discuss how the networks adored Bruce Springsteen's Super Bowl ad for Jeep, where he was allegedly a voice for "The Middle" and a spokesperson for "ReUniting" of America. At podcast time, Kyle was also working on it, as the NBC folks were delighted in the morning to be in the presence of TBS left comedian Samantha Bee, who announced that now that Trump is gone, she's just going back to comedy and musical Guests can have … if you think of Bees' snarky routines as a "comedy".
Enjoy below or wherever you are listening to your podcasts.