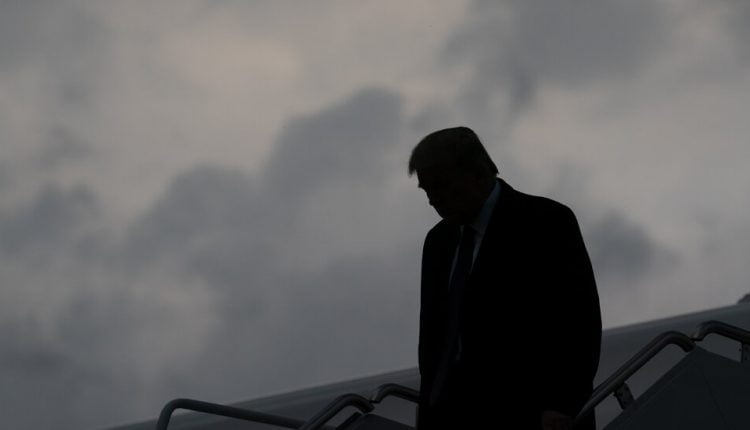 The Busy Week When the President Met the Virus
Later that evening, after a short flight to Middletown, Pennsylvania for a campaign rally, Mr. Trump hit Mr. Biden as the president and the enthusiastic crowd kept raining steadily. Flanked by huge television screens that read, "Fill the space," in capital letters, he crowed over Judge Barrett, boasting of beating Mr. Biden in the upcoming debate.
A White House reporter on the flight would later test positive for the virus.
"Biggest Mask I've Ever Seen"
Back at the White House on Sunday, Mr. Trump and Ms. Hicks gathered with a handful of other aides and advisers, none of whom wore masks, to set up the debates in the card room.
The group was seated at a long table with an open space between Stephen Miller, the president's speechwriter and senior domestic policy advisor, and Chris Christie, the former New Jersey governor, who led the preparations. Rudolph W. Giuliani, Mr. Trump's personal attorney and former Mayor of New York, attended one of the sessions, which lasted several hours, and sat in the open space.
Mr. Trump was facing Mr. Christie, and over the president's left shoulder was a television screen playing video clips for him to watch.
On Monday, the group moved the meeting to the Oval Office. Mrs. Hicks was sitting on the couch. And on Tuesday they gathered again in the card room for a few hours and prepared the President for the debate that evening.
Prior to the debate, White House officials who had been in close contact with Mr. Trump and Mrs. Hicks went to Capitol Hill to introduce Judge Barrett to the Senators. Vice President Mike Pence, White House Chief of Staff Mark Meadows, and White House Attorney Pat Cipollone posed for photos with Judge Barrett and Kentucky Senator Mitch McConnell, Majority Leader, in the Mansfield Room.