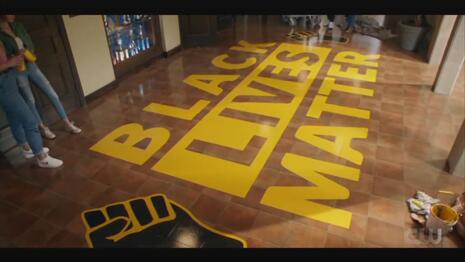 The CW's 'All American' Continues Race-Baiting on MLK, Jr. Day
Last year, on Martin Luther King Jr. Day, the CW's All CW high school soccer drama celebrated the major holiday with a racially divisive episode directed against police officers. The new season opened on the evening of this year's King's Holiday with a homage to the extremist, socialist group Black Lives Matter and a confrontation with "racist" America.
Last year's episode aired before the murder of George Flloyd, which sparked protests, riots and violence nationwide, although the vast majority of Americans were appalled by the way officials treated Flloyd and it was rightly denounced by leaders on both sides of politics Gear. At the center of these protests was, of course, the extremist, left-wing socialist group Black Lives Matter.
On Monday's Seasons Pass episode, All American paid homage to BLM with a mural painted on the floor by students at Beverly Hills High:
Chris: Yo how are you not even a student here anymore but you got us out of here to do some manual labor?
Spencer: Because it's a dope idea and it's important to Liv. Well?
Liv: Guess that's it. We're done.
Jordan: I'm proud of you. It's not bad for your first step as president of the Black Student Caucus.
Liv: Well, it's a senior year. It's time to make a statement.
As Trump faces charges of inciting violence in the Capitol, are the massive destruction, shootings, fires and deaths that occurred during the BLM protests leading to the glorification of the BLM? I have it. That is definitely quite a statement.
Liv later makes out with her boyfriend Asher, who asks her what she's been up to all summer while they were apart. The podcast host replies: "Nothing. I mean, the BLM demonstrations and parts of America showing their racist ass, I was just deep into the podcast stuff. But whatever. "
As Hollywood continues to divide us with such racial lures and pro-BLM storylines, it's a sad reminder of how desperately we need MLK's wisdom and guidance now more than ever.
Conservatives Struggling: This episode of All American was sponsored in part by Taco Bell, AT&T, and Disney +. Reach out to these advertisers to let them know how you feel about supporting a show that glorifies BLM and racial segregation.