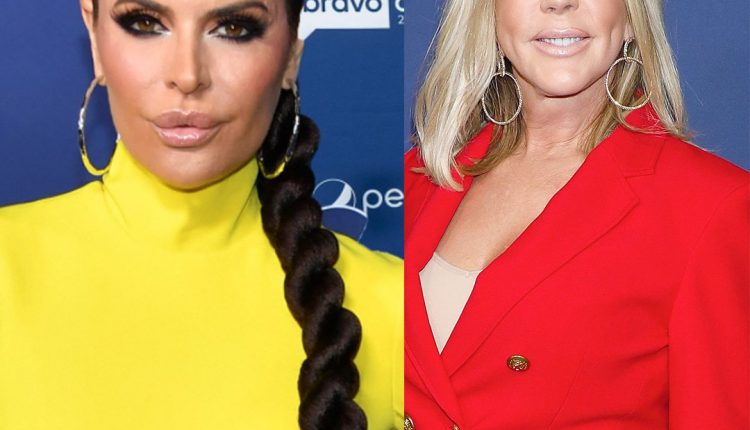 Vicki Gunvalson Says Lisa Rinna Regarded Down On Her At Bravo Con Final Yr And Slams Her For It!
It looks like Vicki Gunvalson has bad blood with him Lisa Rinna! In this brand new podcast episode, the RHOC Stern accuses them RHOBH Star of the look at them at Bravo Con!
Right! Vicky accused Lisa of berating her at the event last year.
RELATED: Vicki Gunvalson claims she has no idea why she was downgraded by RHOC for season 14
During the Behind the Velvet Rope podcast with David Yontef, Vicki remembered all of the interaction and provided all the details!
"Last time I saw it all [the Real Housewives of Beverly Hills ladies] was at either Bravo Con or Andy [Cohen]Baby shower last January. And really, you know, Lisa Rinna didn't give me the time of day. I said hello to her, but she just said, "Oh yeah, you're Orange County." I do not think so [the RHOBH ladies] gave me the time of day. You wouldn't have a job if I hadn't started this damn thing, "she shared on the podcast.
Vicki is one of the cast members on OG Real Housewives and first made an appearance in the franchise in 2006 when it started.
RELATED: Kate Middleton Talks The Ups And Downs Of Parenting While Hanging Out With Toddlers!
But this encounter wasn't the only thing that bothered Vicki.
She also revealed that she hated Lisa's viral moment, which happened at Andy's baby shower in 2019.
Lisa Rinna, who dances at Andy Cohen's baby shower, is the focus of my 2019 mood board pic.twitter.com/k0vjHfqplA
– Joe Erbentraut (@robojojo) January 27, 2019
As for Vicki, the other woman just wanted attention, even though the party wasn't about her, but of course the baby and Andy.
'[Lisa] was dancing upstairs on the tables. I'm like 'why? This is Andy's baby shower. Do you want attention? 'It was just all very, I just sat back and said, "Wow, that's a bit of a mess." … Everyone was having fun. But you only see it from a different perspective when you're not turned on [the show] no more.' Ouch!
advertising