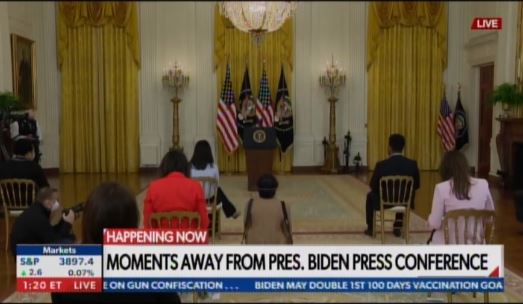 Biden Handlers Use Covid as Excuse to Protect Previous Joe From Reporters Throughout His First Presser
Joe Biden will be giving his first press conference today after hiding his first two months in office from reporters.
But the room configuration shows that Biden's handlers are using Covid as an excuse to protect Biden from reporters.
Advertising – story continues below
Getting ready. pic.twitter.com/C4S4xybkz4
– Meghan Hays (@ MegHays46) March 25, 2021
TRENDING: VIDEO: Regent University Election Integrity Conference – Jim and Joe Hoft of TGP Release Exclusive Content – Also: FULL CONFERENCE VIDEO
The chairs are "socially distant" and far apart than the CDC recommended 6 feet.
Because of this "distancing", only two dozen reporters are admitted to the press.
Advertising – story continues below
In addition, the reporters are so far away that they can no longer interact with Biden and ask further questions.