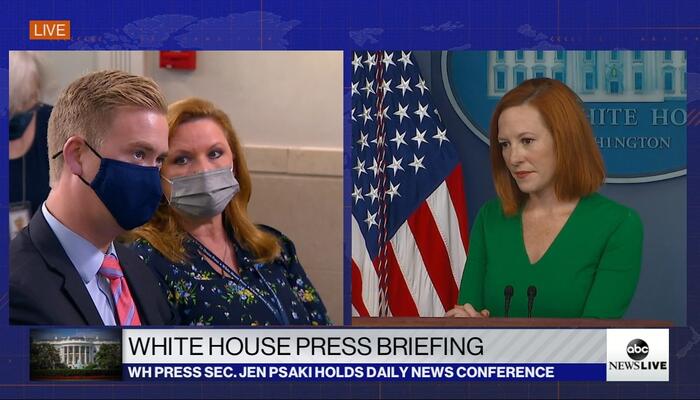 Effectively Then: Doocy Will get Psaki to Admit Mother and father Shouldn't Have Say in Masks at Faculties
Isn't it always a feast for the eyes when liberals pronounce the quiet part out loud? That was the case at the White House press conference on Friday, when a questioning of Fox News correspondent Peter Doocy led press secretary Jen Psaki to admit that parents should not have a say in school matters such as whether their children should wear masks.
And to defend the masking of all children of all ages, Psaki insisted that her aspiring kindergarten likes masks, and it worries her that Governor Ron DeSantis (R-FL) has placed children in unsafe "environments" by banning school masking requirements.
Doocy built on this by pointing it out "DeSantis says he could potentially start withholding funds from school districts that don't allow parents to opt out of policies that require masks in classrooms." before you ask yourself: "Does the president think parents should have that kind of power?"
Psaki chose that Melissa Harris-Perry Approach to children and says that she "wants"[s] Public health officials making decisions about how to protect my children, not politicians, and not only that Governor DeSantis is not following public health decisions, he is raising money for it. "
After adding that DeSantis does not let schools ensure that students are "in a safe environment," Doocy quoted the Florida governor about the harm he does to children if they are constantly masked. Here Psaki argued with one of her own children that wearing masks all the time is something young children should adhere to (click "Expand"):
DOOCY: He says he is concerned about "the detrimental emotional, academic and psychological effects of wearing masks on kindergarten teachers for hours." Are there any concerns from officials with whom you discussed this in your early discussions prior to making the decision?
PSAKI: No, there is no such thing and I can tell you from my own experience that my aspiring kindergarten teacher told me two days ago that she could wear a mask all day and just like to go to camp and school. And the goal of all of our public health authorities was clearly that children should go to school under our Minister of Education. We know that when they are out of school it has mental health implications. And we should take the necessary mitigation measures to allow them to be in school and in the classroom, including masking and including the ability to make this a reality in these schools to keep the community safe.
Ahead of the masking questions, Doocy wanted to know why the government should keep pushing for Covid-related welfare and moratoriums given the White House celebrated Friday's job report of 900,000 jobs created in July.
Psaki claimed they were necessary because some were both "overdue" and "long-term investments" at a time when "there are still people out of work" and "insufficient money to make ends meet".
Elsewhere, Philip Wegmann from Real Clear Politics came up with excellent questions in the form of one each on the deficit and whether parent groups were sitting at the table with the Ministry of Education when the schools were reopened (because they have a comfortable relationship with the teachers' unions) (click on "Expand "):
WEGMANN: So the last time we talked about debts and deficits, you realized that the President had proposed a method of payment for his proposals and that the future of the next generation was close to his heart. I wonder what the White House's reaction is to a recent analysis by the Congressional Budget Office that predicted the bipartisan infrastructure bill would add a quarter trillion dollars to the deficit over the next 10 years.
PSAKI: Well I suppose you are referring to the CBO analysis?
WEGMANN: Yes, Jen.
PSAKI: No, no, of course. I thought – I thought I understood where you are from. The CBO score, which forecasts a deficit of $ 30 billion a year for eight years, does not take into account the real savings agreed across parties. That includes over $ 200 billion in lower costs for emergency programs like paid vacation last year than CBO originally estimated, and over $ 60 billion in higher frequency revenue from a February auction than CBO expected. In addition, it does not take into account the positive budgetary impact of economic growth that this package will have. In fact, there is strong evidence from a number of economists, including Moody's, that infrastructure investments like this can indeed pay for itself over time and over the long term. And that's something a number of Senate leaders are referring to.
WEGMANN: And then quickly. Yesterday, Secretary Cardona noted that the administration is working closely with teachers' unions to prepare for school openings this fall. I wonder, are there certain parent organizations that the administration also works with?
PSAKI: To make sure the school is open?
WEGMANN: Yes.
PSAKI: That is certainly something the Ministry of Education. They work with a number of organizations to make sure they are trained, they have the information they need, they know what the mitigation measures are. I can certainly ask Secretary Cardona if there are any specifics or put you in touch with the Ministry of Education.
Newsmax's Emerald Robinson came right after that, and while Psaki wanted nothing to do with her, she wanted to know what the White House made of the former Covid board member of Biden's transition Comments from Michael Osterholm that cloth masks are ineffective.
For the third time that week, Shelby Talcott was called by the Daily Caller and chose to refine the fact that McAllen, Texas had to go alone on the explanation "Resources and manpower" for construction and expansion "Emergency facilities set up for COVID-positive migrants."
On the question of whether the federal government would provide assistance, Psaki said the Department of Homeland Security was "in contact" with them when they "opened this facility …
To view the relevant transcript of the August 6th briefing, click here.